Realtime Custom Cabinetry System for Revit
The ultimate plug-in for modeling all types of Cabinetry in Revit, like Kitchens, Bathrooms, Book shelfs, Space frames, Offices, Closets and much more...
Here are the Tools that you get with the Plug-in: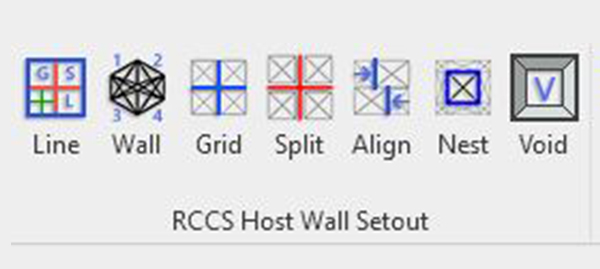 Sketch Tools
Sketch tools are used to sketch out the cabinetry design in an elevation view. Tools are using the Curtain walls for generating cabinetry.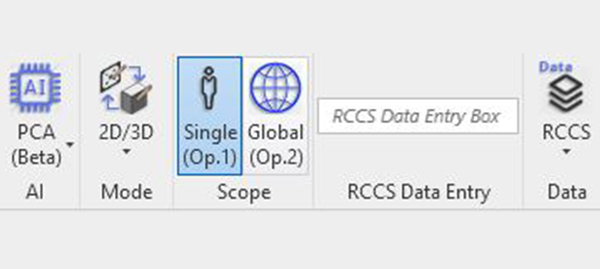 AI, Mode, Scope, Data entry & Data
These panels include the AI system that can generate a complete kitchen by analyzing your sketch. 3D/2D toggle switches between two modes. Scope controls how many elements you effect. Data entry is used with multiple tools.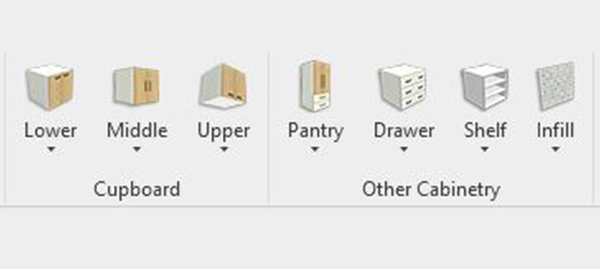 All Types of Cabinets
All types of cabinets are available with this plug-in. You get lower, middle and upper cabinets, pantry systems, drawers, shelfing, kickboards, benchtops, splash backs and much more...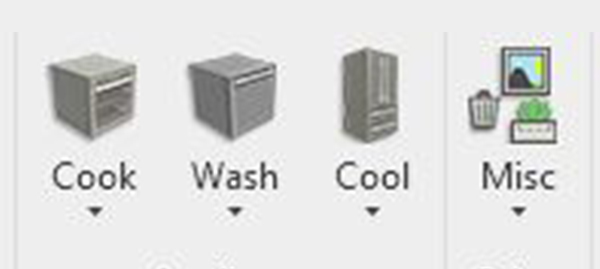 All Types of Appliances
Most kitchens these days have built-in appliances. All types of ovens, refrigerator and washing machines. Also all additional appliances line range hoods, wine coolers heating drawers est. All appliances can be modified to fit any shape.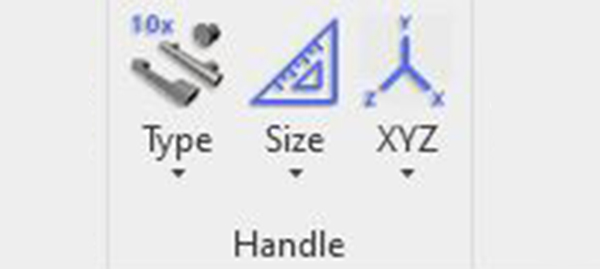 Handle Settings
Handles are completely customizable by using the handle panel. You can chose from various handle types both for regular (two point) and knobs (one point) and no handle is available too. Position, size and rotation on the cabinetry doors and drawers is also adjustable.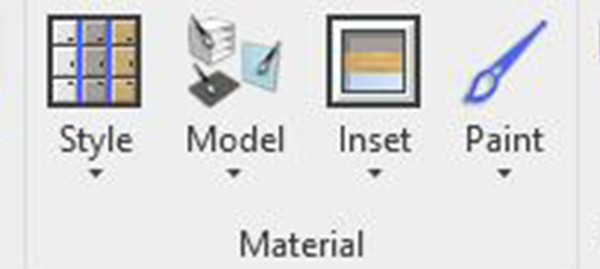 Material Settings
Materials can be modified to your requirements. A lot of presets are available for quick visualization. Each cabinet can be manually adjusted (inside and out). This is also where you can create insets. Multiple glass inset options are available.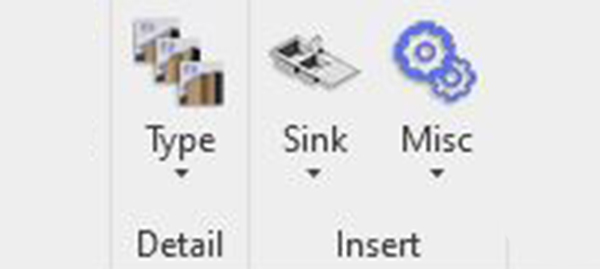 Detail and Insert
These panels are used for detailing certain parts of the cabinetry and also inserting different additional elements in the model. You can insert different sink options (both kitchen and bathroom), as well as many additional element such as an ice dispenser.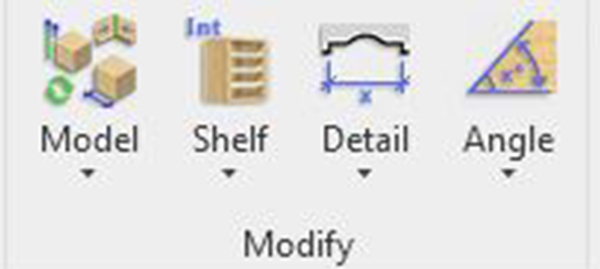 Modify Panel
This panel allows you to modify all cabinetry elements. You can control number of shelves and all possible types of offsets and adjustments. This panel is also used to setup and adjust corner conditions between different cabinetry elements in corners and bends.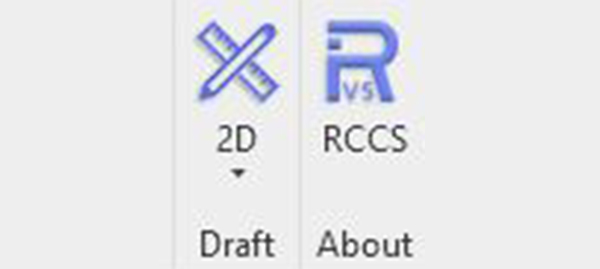 Draft & About
Draft panel holds all 2D tools needed for any drafting on the elevation views for additional information and standardized making.
About section just gives you all info about the RCCS plug-in.
What is the Workflow?
Step 1: Sketch
The sketch is created in an elevation view. For the sketch you can start with regular detail lines. After that you create cabinet element separations on the curtain wall according to the detail line sketch.
Step 2: Cabinetry
Now it's time to convert our sketch into 3D geometry. This is completed by using the AI. AI will analyze the sketch and then it will create geometry accordingly. After this you can change up the elements if you are not happy with the AI's solution.
Step 3: Finishing Touches
After you complete the Cabinets and Appliances it's time for finishing touches like the material setup, sinks, cooktops est.
The cabinetry is now completed!
Here are the possibilities:
The RCCS Plug-in is just a set of tools, it's up to you and your creativity to explore all possibilities...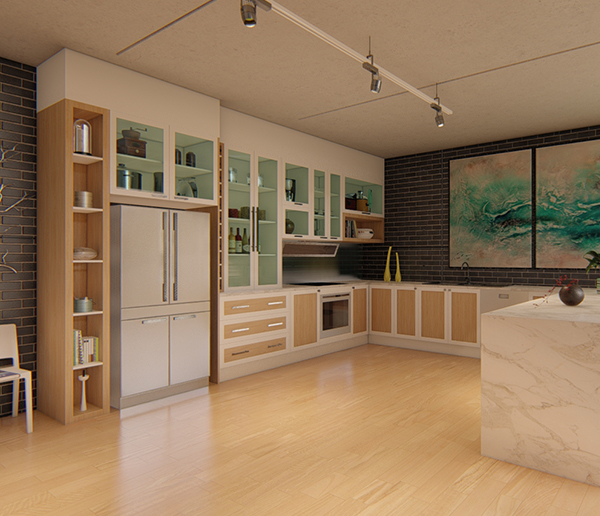 Kitchens are really just cabinetry with appliances, so the RCCS is perfect for designing them. Especially because of the tools that are included that cover all kitchen components, designing new kitchens is really quick and easy.
RCCS has an intuitive way of creating kitchen designs that isn't limiting like using Revit casework families.
By using this plug-in you can take back a bit more control over the design process in residential architecture.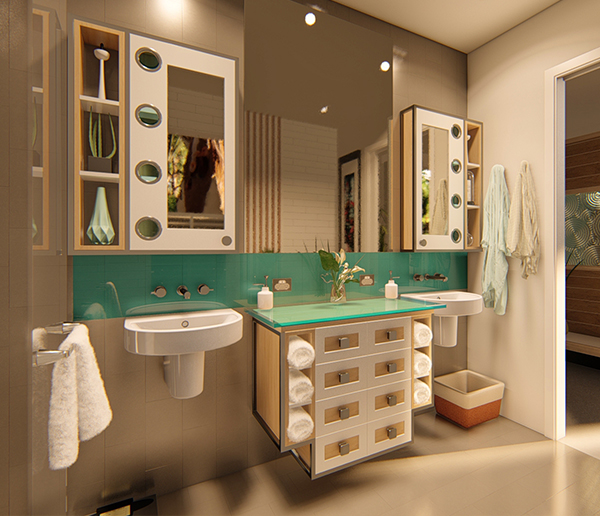 Unlike designing kitchens in Revit, designing bathrooms can be even more of a challenge. At least for kitchens we get some casework families, but for bathrooms we usually don't have much choice, especially when you are going with a custom design.
This is why RCCS is soo powerful in this area. It gives you the freedom to design the bathrooms according the space, style and dimensions.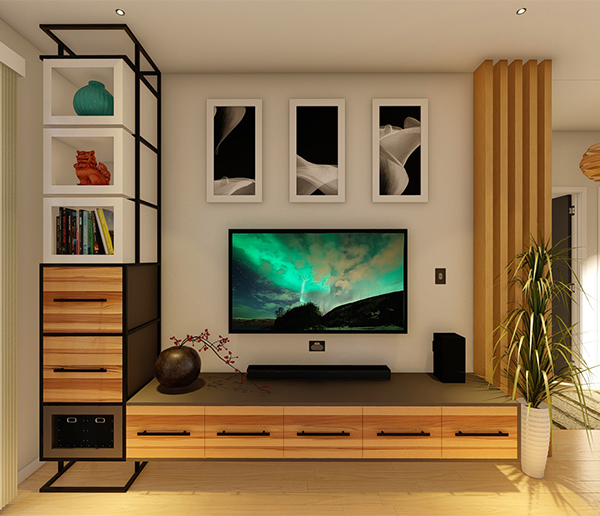 Living rooms are also one of those areas where your creativity is limited to using in-place components and any family that you can find online.
With the use of RCCS you can actually create your own customized living room design that fits the whole style and design language of the house/apartment.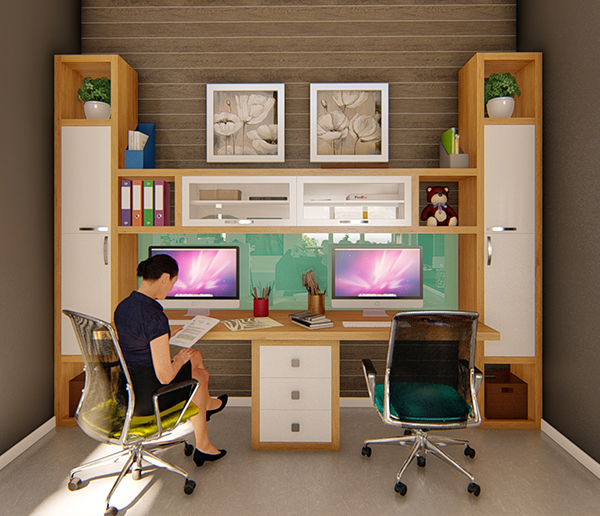 Office spaces are becoming more and more bespoke to each company, their culture and approach to work. With the RCCS tools you have the power of endless customization when it comes to this part of the design process.
You will have the ability to quickly and easily test out different designs and styles for reach office space.
Spaceframe Shelving
Spaceframe Shelving getting really popular these days. Because of this space frames are available with the RCCS Plug-in. This allows you to create custom spaceframe shelves that fit your interior design perfectly and later you can use it for fabrication.
IMPORTANT: This Plug-in will only work with Revit 2023 & Revit 2024!
Important: RCCS will work in the regular version of Revit, but not Revit LT. Revit LT doesn't support any plug-ins.